Features
Volume measurement range: 0-999ml
3D mechanical probe, no annual calibration needed
+/-7.5% Accuracy
Stores up to 1000 scans
8" touch screen
Built-in thermal printer
Wireless Bluetooth transmission or USB connection for PC
Expert mode and simple mode
Intelligent positioning function to help make sure probe is over the bladder before the scan
Bladder Scanning Essentials

Non-invasive and Immediate Detection of Bladder Volume

Expert Mode and Simple Mode

Wireless Bluetooth Transmission

Stores Up to 1000 Scans
Commonly Asked Questions
The GT-6000 Bladder Scanner includes a 2-year warranty on the main unit and a 1-year warranty on all accessories.
The CardioTech GT-6000 includes:
A 3D Probe, Battery, Battery Charger, Thermal Paper, Trolley and a Carrying Case.
The CardioTech GT-6000 is perfectly suited for urology departments, long term care, rehab facilities, hospitals and mobile care companies.
Summary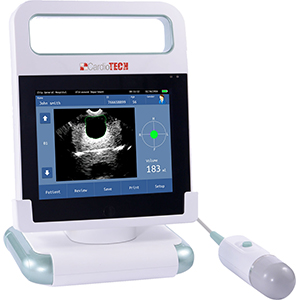 Brand Name
Product Name
Price
Product Availability