The Importance of Immunizations During COVID
Why is Keeping up with Routine Immunizations Important?
Immunizations play an extremely important role in keeping our society safe and healthy. While many people support vaccinations, due to COVID-19 there has been a severe decrease in routine childhood and flu vaccines. In fact, according to the World Health Organization (WHO), there are roughly 80 million children in the world who have missed their routine vaccinations due to COVID-19. This decrease in immunizations is caused by many different circumstances. Many hospitals, which in the past were open to administer routine vaccinations, were only open to critical care patients. Other factors, such as increased fear of coming in contact with COVID-19, have caused patients to avoid hospitals and other business centers. These unpredictable circumstances have contributed to the decrease in routine vaccinations, and while they seem minute, these Immunizations can greatly affect our health care system in the fall.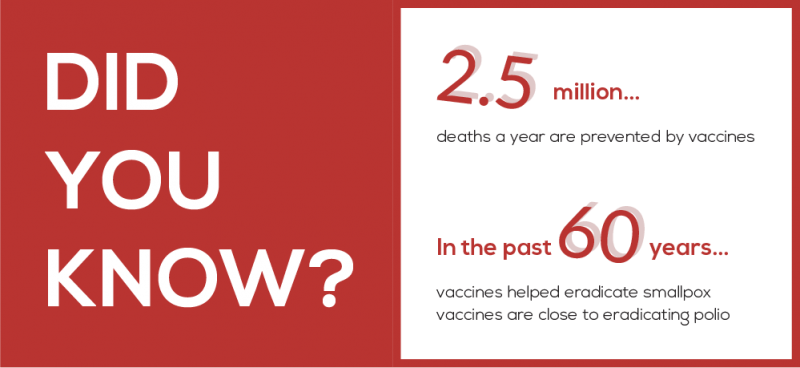 Why We Should Take Special Care to Vaccinate During Covid-19?
Vaccinating on time can not only lessen your risk for deadly diseases but also protect others. Missing childhood vaccines can greatly increase the likelihood of contracting a dangerous vaccine-preventable disease, such as measles. After the first positive case of COVID-19 in Cambodia in January 2020, 84 measles cases were confirmed in the same month. By April, during the height of the pandemic, their measles case number shot up to 341. By missing routine childhood vaccinations, children are more susceptible to similar outbreaks.
The flu commonly results in symptoms such as fever, cough, chills, muscle ache, fatigue, and sore throat. Other severe complications such as a flu virus respiratory tract infection, and pneumonia, are known to occur. During the 2019-2020 flu season, there were approximately 35 million symptomatic flu cases 16.5 million flu-related hospital visits, and 420 thousand flu hospitalizations in the United States alone. Hospitals are already short-staffed, and short on medical equipment to combat COVID-19 induced pneumonia and respiratory tract infections. Meaning, a potential flu outbreak could overwhelm the healthcare system.
How Organizations are Promoting Vaccinations
Some organizations, schools, and businesses have already taken steps to promote vaccinations during the COVID-19 pandemic. The World Health Organization has used its resources to help countries catch up on routine vaccinations. In fact, WHO partnered with UNICEF throughout June 2020 to help close child vaccination gaps in Syria. Together, these organizations vaccinated more than 210,000 children.
Meanwhile, the University of California school system has taken steps to ensure that students receive their annual flu vaccines. On July 31st, 2020, UC officials passed an executive order requiring all students, faculty, and staff to get a flu vaccine. They hope that it will help decrease flu cases and flu-related hospital visits.
Works Cited:
Flu Symptoms & Complications. 18 Sept. 2019, www.cdc.gov/flu/symptoms/symptoms.htm.
"How WHO Is Supporting Ongoing Vaccination Efforts during the COVID-19 Pandemic." World Health Organization, World Health Organization, 14 July 2020, www.who.int/news-room/feature-stories/detail/how-who-is-supporting-ongoing-vaccination-efforts-during-the-covid-19-pandemic.
Person. University of California Requires Flu Vaccination for Students, Faculty and Staff. 9 Aug. 2020, abc7news.com/flu-shot-requirement-uc-coronavirus-university-of-california-vaccine-covid-19-system/6361850/.
"Routine Vaccination During the COVID-19 Outbreak." Centers for Disease Control and Prevention, Centers for Disease Control and Prevention, 27 July 2020, www.cdc.gov/vaccines/parents/visit/vaccination-during-COVID-19.html
"Vaccination Guidance During a Pandemic." Centers for Disease Control and Prevention, Centers for Disease Control and Prevention, 9 June 2020, www.cdc.gov/vaccines/pandemic-guidance/index.html.
Watkins, Chandler. "ArkLaTex Doctor Says Flu Shots Are More Important than Ever during COVID-19 Pandemic." Https://Www.ksla.com, 11 Aug. 2020, www.ksla.com/2020/08/11/arklatex-doctor-says-flu-shots-are-more-important-than-ever-during-covid-pandemic/.