How to Read an Ultrasound Picture

Ultrasound Imaging for Pregnancy
An ultrasound is a technique that produces 2D or 3D images of the inside of a patient's body. 
Specifically, pregnancy ultrasound images are a popular way to monitor a baby's development. Ultrasound machines use sound waves to produce and display an image of the fetus inside the uterus. 
Furthermore, they can also help monitor fetal position, movement, heart rate and more at different stages of pregnancy.
Profile
Face
Spine
Legs
Placenta
Umbilical Cord
and more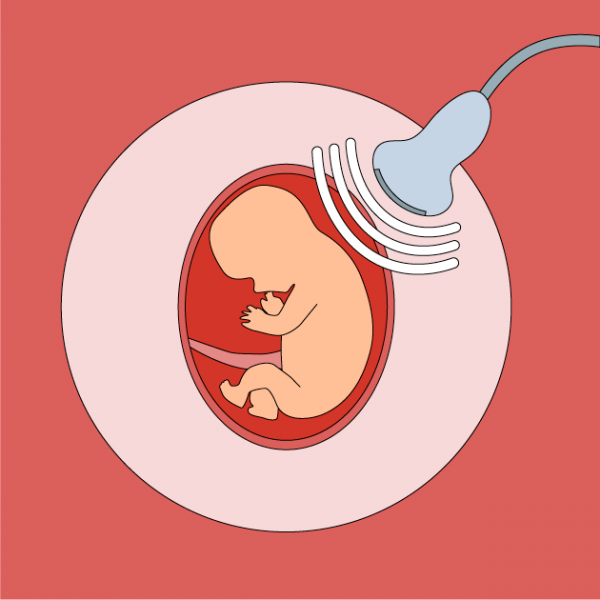 Ultrasound Images at Different Pregnancy Stages
Colors on Ultrasound: Black, White and Gray
Most 2D Ultrasound images are captured in black and white. The various shades of black, white and even gray can tell users the density of the tissue that the sound waves pass through. 
The denser the tissue, the brighter it will appear on an ultrasound. 
Black: Amniotic Fluids in the uterus
White: Bones of the fetus, such as ribs or the spine.
Gray: Tissue, such as dense uterine tissue.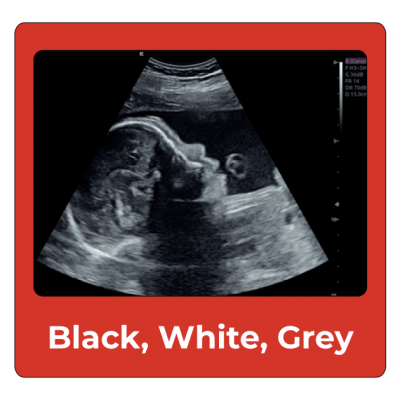 Colors on Ultrasound: Red and Blue
Color dopplers allow medical providers to observe the direction and speed of blood flow in a fetal heart. So, what do red and blue mean on an ultrasound? Contrary to popular belief, red and blue do not directly represent veins and arteries.
Red: represents blood moving towards the probe
Blue: represents blood moving away from the probe
Seeing them both in conjunction can show that each side of the heart to ensure proper function.