Our Most Popular Spirometers of 2023

Our Most Popular Spirometers of 2023
CardiacDirect carries all the top Spirometers from the industry's leading brands. In this article, we'll spotlight our most popular Spirometers in 2023. 
MIR Spirobank II Spirometer
The MIR Spirobank II Spirometer is a handheld, easy to use and stand-alone spirometer with various configurations to best fit your specific needs.
All configurations of the Spirobank II Spirometer feature a 6-key membrane keyboard, an icon-based intuitive navigation menu, a high-resolution display and pediatric incentive animations. Furthermore, this spirometer is compatible with the Winspiro PC Software for EMR connectivity and other added features.
Buy the MIR Spirobank II Spirometer here.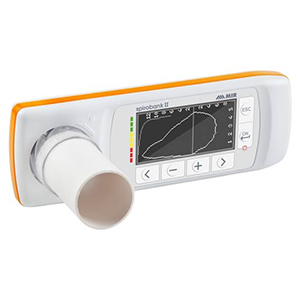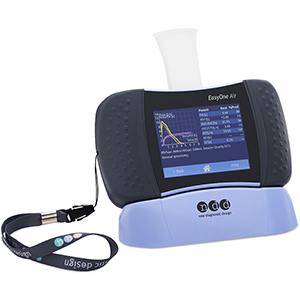 NDD EasyOne Air Portable Spirometer
The NDD EasyOne Air Portable Spirometer  provides users with reliable diagnosis and incredible accuracy.
This high-end spirometer features a vivid color touch screen,  a long lasting rechargeable Li-ion battery and a robust design. Equipped with USB and Bluetooth, the EasyOne Air Spirometer can easily be connect to printers, central databases and EMR systems.
Buy the EasyOne Air Portable Spirometer here.
MIR Minispir Light Spirometer
The MIR Minispir Light Spirometer  is one of our most popular low cost asthma and COPD screeners.
The MiniSpir Light Spirometer measures the essential parameters for diagnostic spirometry and is ideal for Occupational, Sport and Pediatric Medicine. With an intuitive user interface, handheld design and easy data export functionality, the MIR MiniSpir Light Spirometer can optimize your workflow with ease.
Buy the MIR Minispir Light Spirometer here.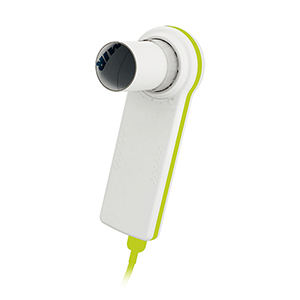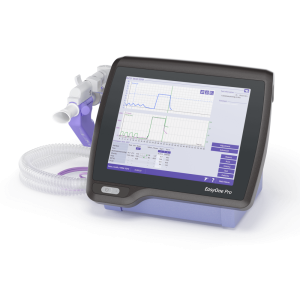 NDD EasyOne Pro Spirometer
The NDD EasyOne Pro Spirometer is the proven choice for complete point of care pulmonary function testing.
The EasyOne Pro is capable of accurate spirometry testing as well as DLCO and provocation testing. This spirometer features EMR connectivity, printer compatibility and QC-Grading + Result Interpretation. Pulmonologists are impressed with and consistently choose the EasyOne pro over traditional body boxes as the new standard.
Buy the NDD EasyOne Pro Spirometer here.
Comparison Chart