Features
Compact and lightweight
10″ high-resolution color LCD touchscreen
Widescreen display for viewing up to 12 leads of ECG data
Distinguished Mortara VERITAS™ Resting ECG Interpretation Algorithm: This widely recognized algorithm uses gender-specific and adult-pediatric criteria to provide a silent resting ECG interpretation.
Choice of WAM™ Wireless or AM12™ Traditional ECG Acquisition: Both include replaceable lead wires, lead fail indicator, and remote control with buttons for ECG acquisition and rhythm printing.
Best 10 Technology
Bi-directional communication via internal modem, LAN, or wireless LAN with Mortara's E-Scribe™, as well as third-party PACS systems via XML, PDF, UNIPRO32, and DICOM® our latest connectivity offering that simplifies patient information transfer to data management systems.
1,000 sps per channel data capture provides more in-depth ECG signal assessment during analysis, display and printing; 40,000 sps per channel offers unsurpassed pacemaker spike detection.
802.11 wireless communication module can be encrypted in WEP, WPA, or WPA2-AES.
Optional data security is available: Securing ePHI is promoted with centralized device access controls integrated with LDAP or Active Directory service. Additionally, encryption both at rest and in transit protects ePHI from the ELI 280 ECG to the server.

 10″ High-Resolution Color Display

Wireless Data Acquisition

Best 10 Technology

Streamlined Functionality
Summary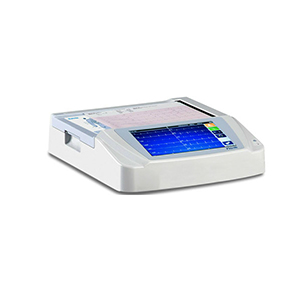 Brand Name
Product Name
Price
Product Availability